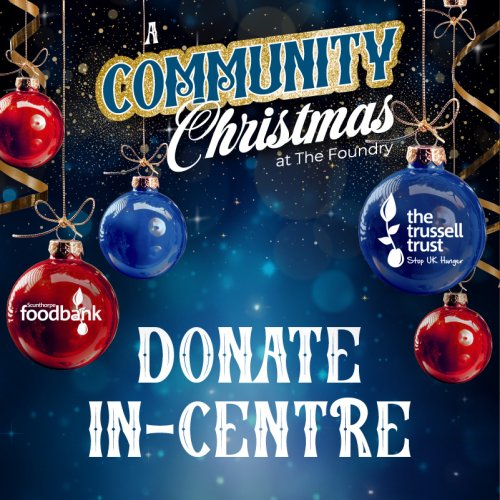 We're having a Community Christmas at The Foundry between 16th November and 4th January!
You'll find our donation boxes on the mall – one for food, one for toiletries – providing emergency supplies for local people in crisis. Please donate an item or two from the lists, whatever you can do to spread some seasonal sparkle!
This is all in aid of Scunthorpe Foodbank, seeded by the Trussell Trust.
Thank you for taking part and helping our community!
Food list
Milk (UHT or powdered)
Noodles
Soup
Pasta Cooking Sauces
Tinned Tomatoes
Tinned Vegetables
Tinned Rice Pudding
Instant Coffee (small jars)
Tinned Hot Meat
Tinned Fish
Tinned Fruit
Biscuits
Cereals
Toiletries list
Deodorant
Shampoo
Conditioner
Shower Gel/Bodywash
Soap
Feminine Hygiene
Toothpaste
Toothbrushes
Share